I think about this all day.   It fills my thoughts as I do chores and run errands.  But yet I smile as dinner time approaches.  Is it because someone is picking up fast food?  No.  Perhaps there is a ready-to-eat processed meal waiting for the microwave?  No.  Did elves magically appear and create a meal?  Nope.  What has me smiling is that one of my favorite meals can be made from scratch and tastes as though you spent all day cooking.
My favorite go to meal?  Easy Asian Saute.
During my childhood, I grew up on instant rice.  I honestly thought that is how rice is supposed to taste and that is what its texture was like…. until I went to college and had rice that needed to cook longer than just 10 minutes.  The texture light and it had a slightly nutty flavor.  And the aroma… oh… the aroma was heady.  Yes, this is what rice is supposed to be.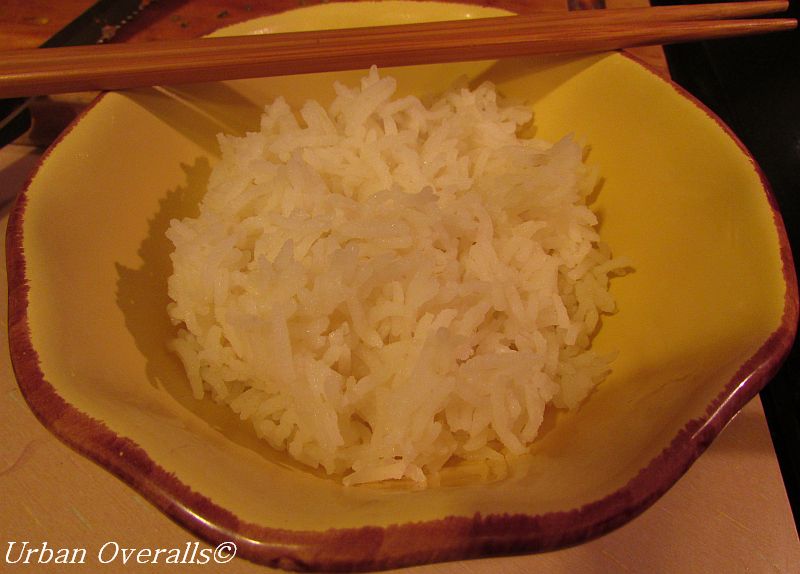 One of my time savers is a rice cooker.  This countertop appliance takes the guess-work out of making rice.  My unit has settings for a wide variety of rice:  brown rice, sushi rice, white rice, etc…  It takes the guess-work out of making rice on the stove top.  Plus, it has a timer so I can put the rice and water in the cooker, set the time when I want the rice to be done (say 6:00pm for dinner) and leave for work or go do errands.
Easy Asian Saute
4 C. rice, cooked
3 tbsp. olive oil
1 red bell pepper, diced
1 large carrot, sliced
1 small onion, diced
4 cloves garlic, minced
2 C. broccoli florets
1/2 tsp. red pepper flakes
2 tsp. soy sauce
salt to taste
Place a large pan over medium heat.   Saute onion until translucent.  Add carrot, bell pepper, and garlic.  Cook for another 5 minutes, stirring occasionally.  Now add red pepper flakes, soy sauce, and broccoli.  Cook until the broccoli turns a bright green color, then remove pan from heat.  Taste and add salt if needed.
Place 1 C. of  into 4 bowls.  Top with the sautéed vegetables.  Enjoy while hot!
NOTE: the rice can be cooking (whichever method you prefer) while you prepare and saute the vegetables.
This recipe is a great way to enjoy fresh produce from your garden, CSA share, or farmers' market.  Feel free to try different vegetables such as green beans, sugar peas, zucchini, and eggplant.
Easy Asian Saute is quick and easy to prepare.  Enjoy the flavors of summer for dinner tonight!